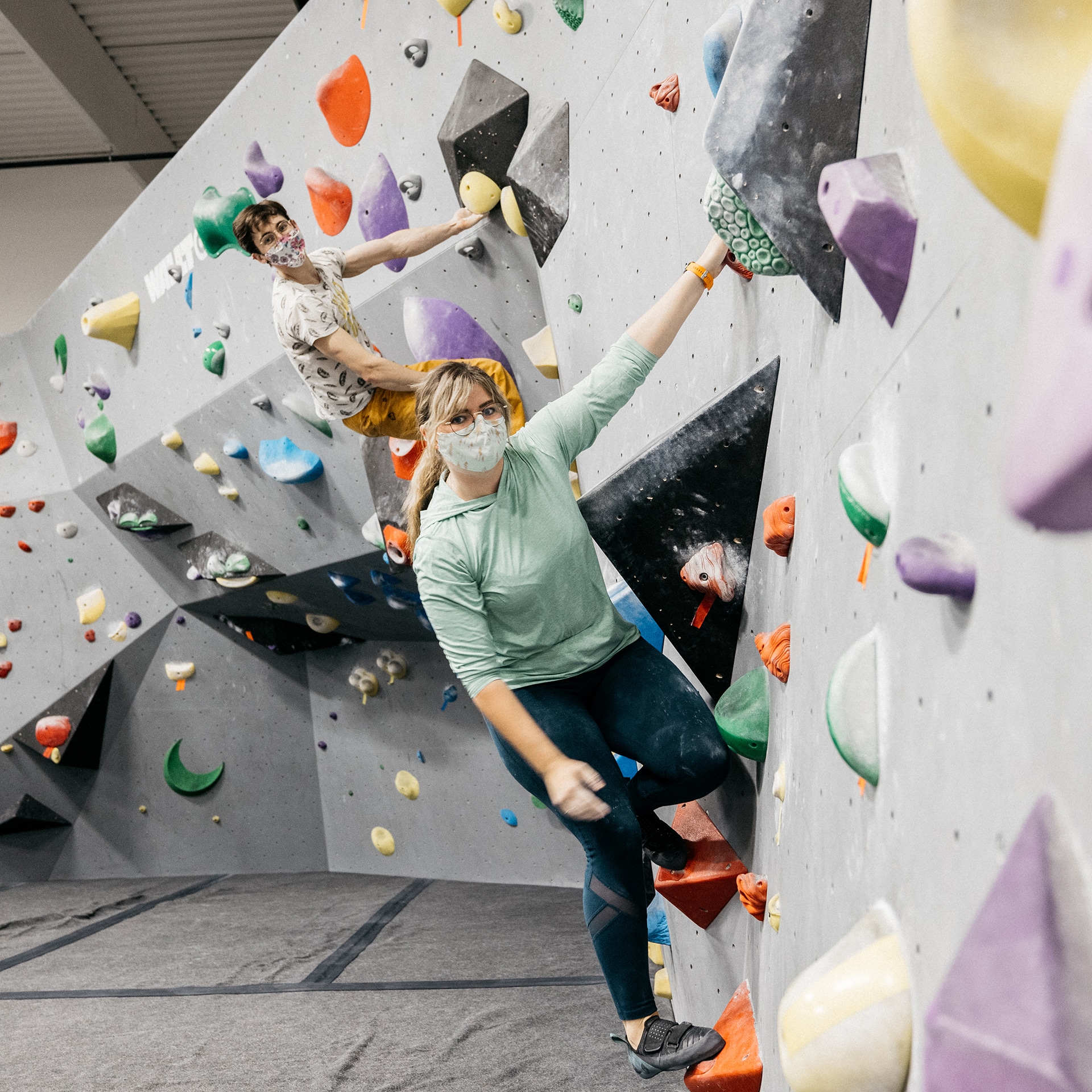 YES! Bouldering is a fun, creative, and social sport.
No matter your athletic background, we've got something for people of all abilities, from first timers to elite athletes.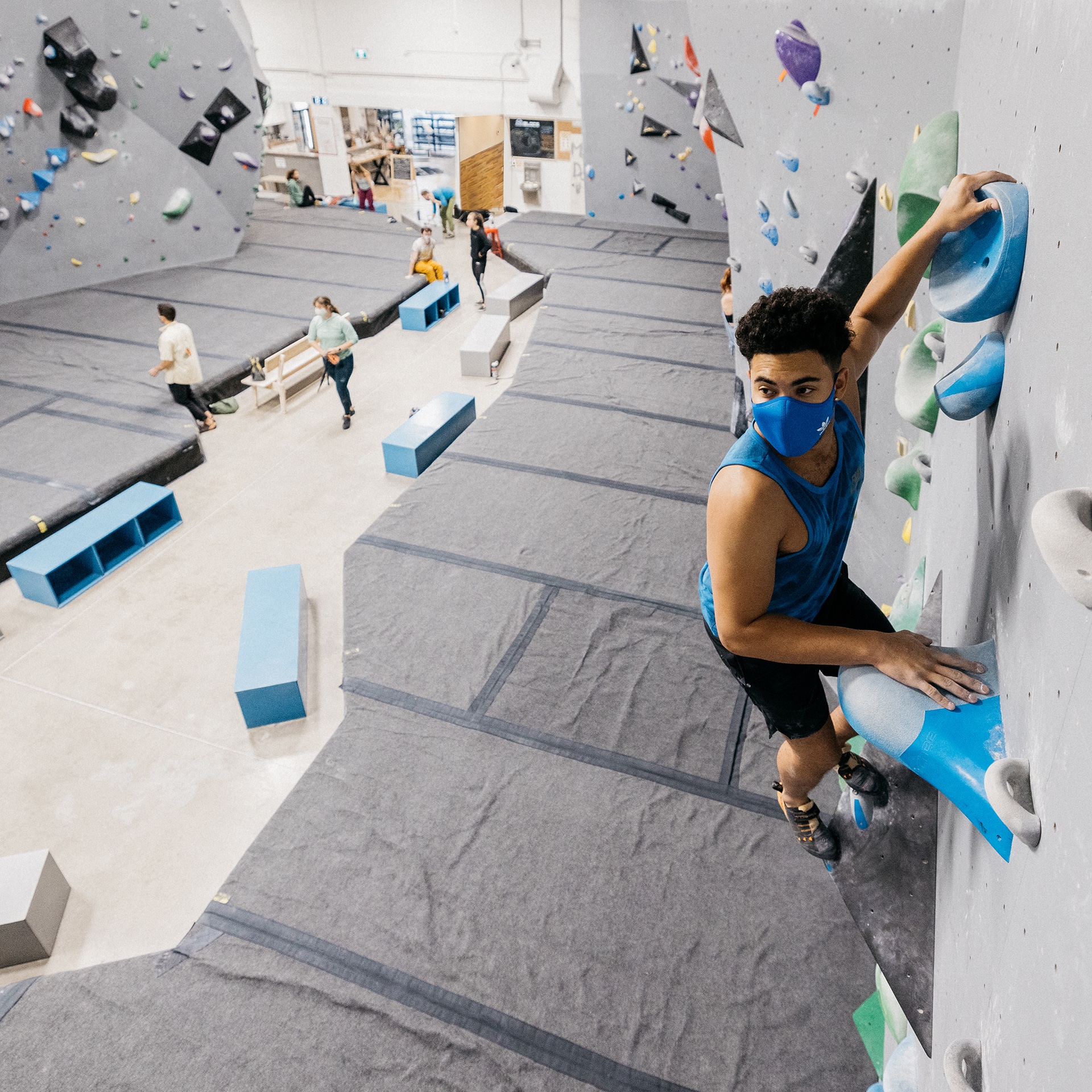 Every climb or 'problem' is designed to challenge you in different ways.  There are problems to suit every level of fitness and experience.
Don't worry, our friendly welcome desk staff will show you around  and explain it all when you get here!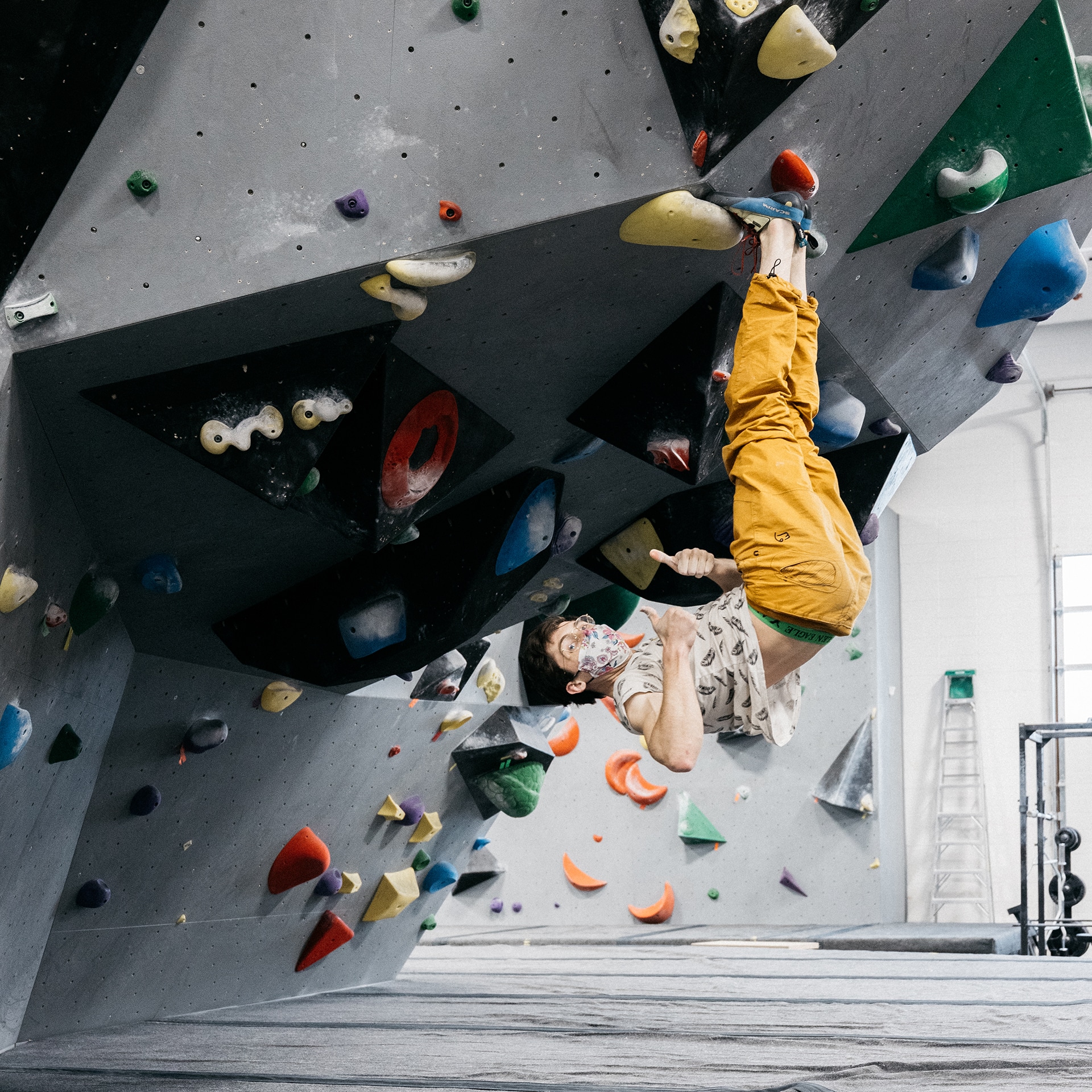 NO ROPES, NO PARTNER?
NO PROBLEM!
Our walls are 14.5ft high and surrounded by 16 inches of cushioned flooring. Instead of falling on a rope, you'll land on our pads.
It's easy to start bouldering since you don't need a partner or any knowledge of knot tying or belaying skills!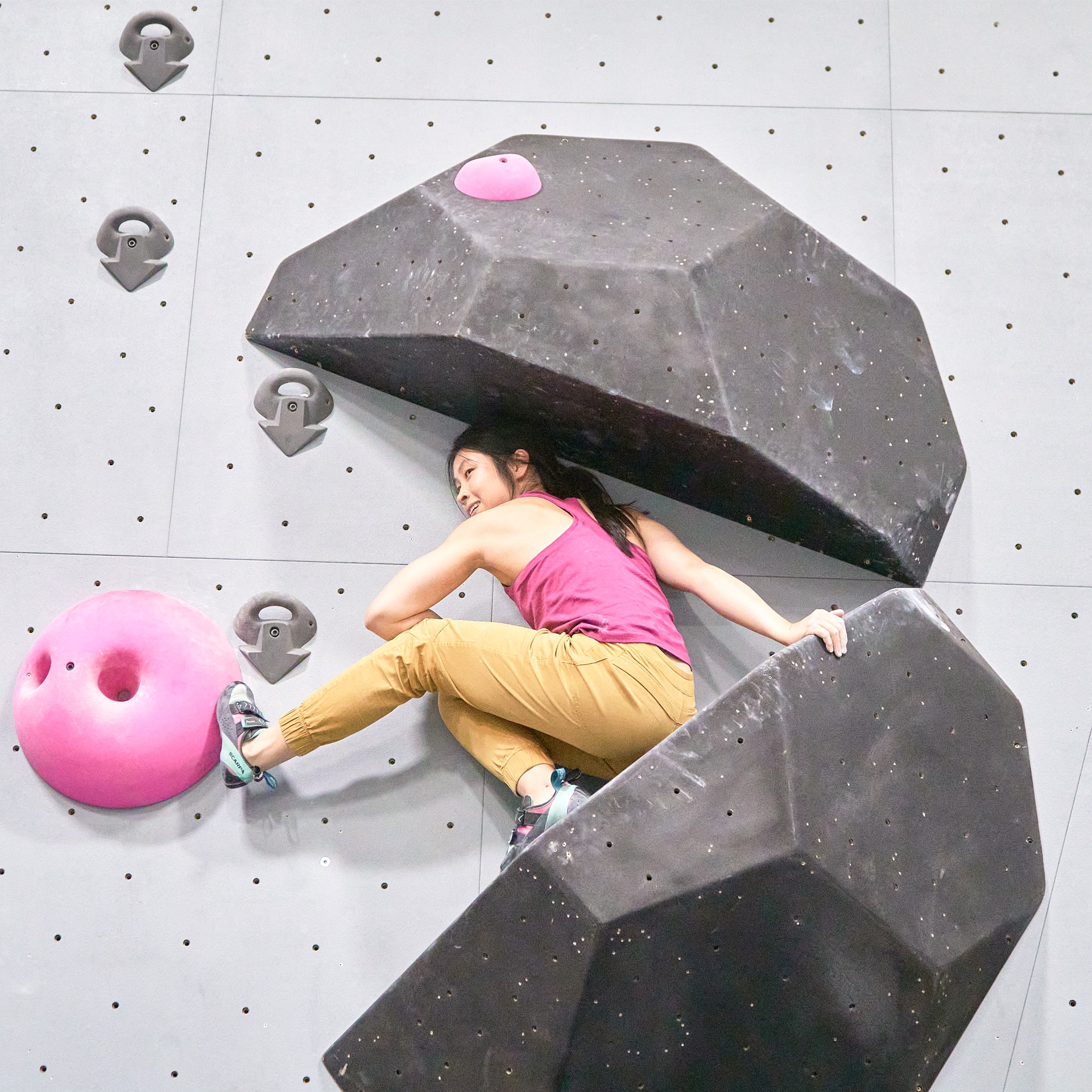 Bouldering is so much more than getting to the top! It's a highly social activity with puzzles or "problems" that you get to solve with your body!
Bouldering is not only about physical strength, sometimes the easiest way to the top relies more on balance, flexibility, and creativity.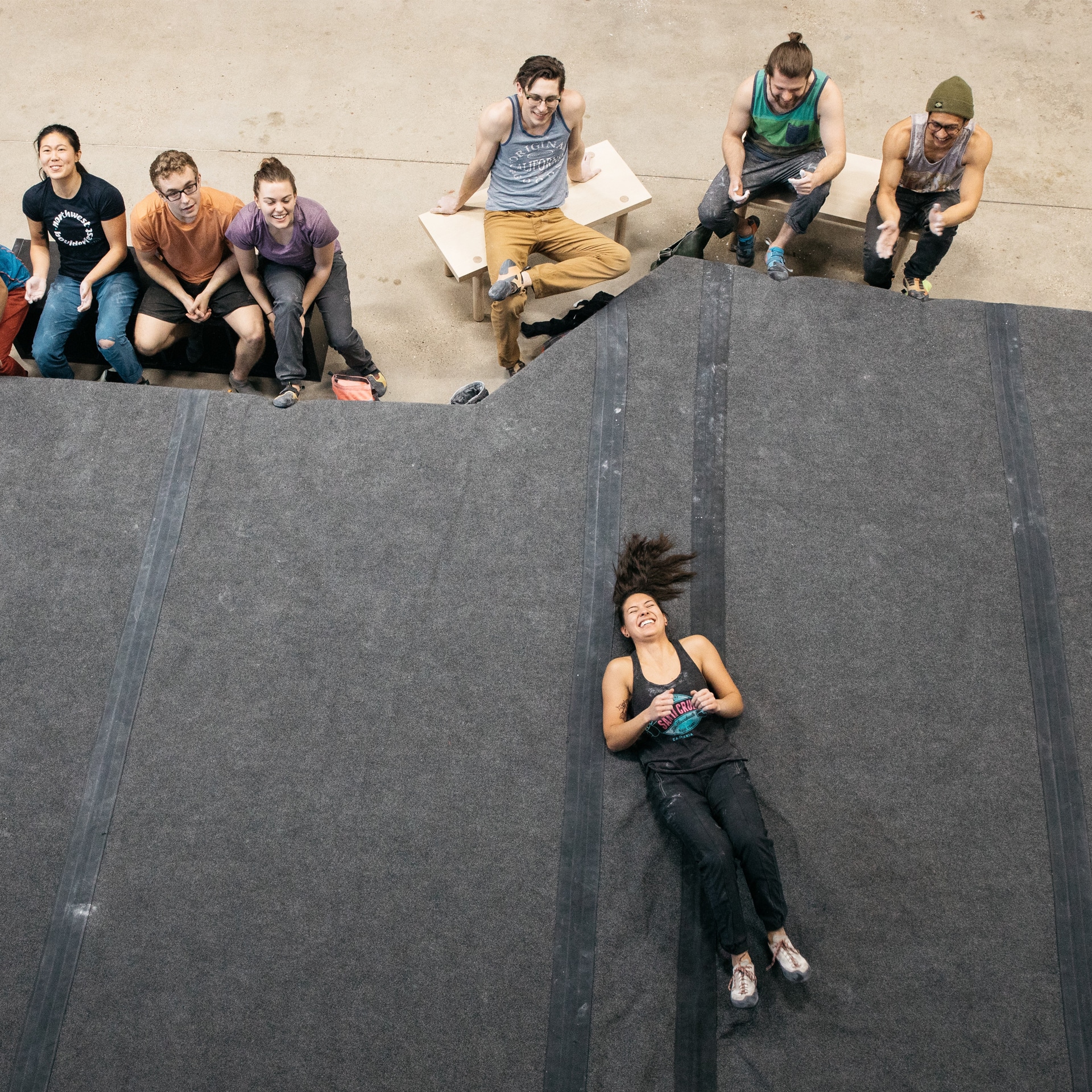 FALLING IS PART OF THE FUN!
Bouldering is all about figuring out problems and falling is part of the process.
We'll make sure you're comfortable with falling onto our pads and give you some tips on the best way to fall.
NOTE: Climbing is inherently dangerous and every fall is a ground fall.
Anything you feel comfortable moving around in! 
You'll need to wear climbing shoes when you're on the wall. We also recommend using chalk to help grip onto the holds. We have both available for rent at the front desk!
All you need is yourself!  Come with friends or on your own, we'll help you on your way.
We recommend bringing a water bottle, thin socks (if you're renting shoes), and indoor shoes/ sandals to wear to the washrooms.
If this is your first time at BLOCS, please bring photo ID to validate your waiver.
You can drop in anytime we're open.  No need to book a session.
We'll sign you in and get you set up with any rentals you need.
You will need to sign a waiver online or upon arrival. See link below.
After signing in, our friendly staff will show you around, explain the basics of BLOCS and bouldering, and also take you through some fall practices.
For more info, please read through our facility rules.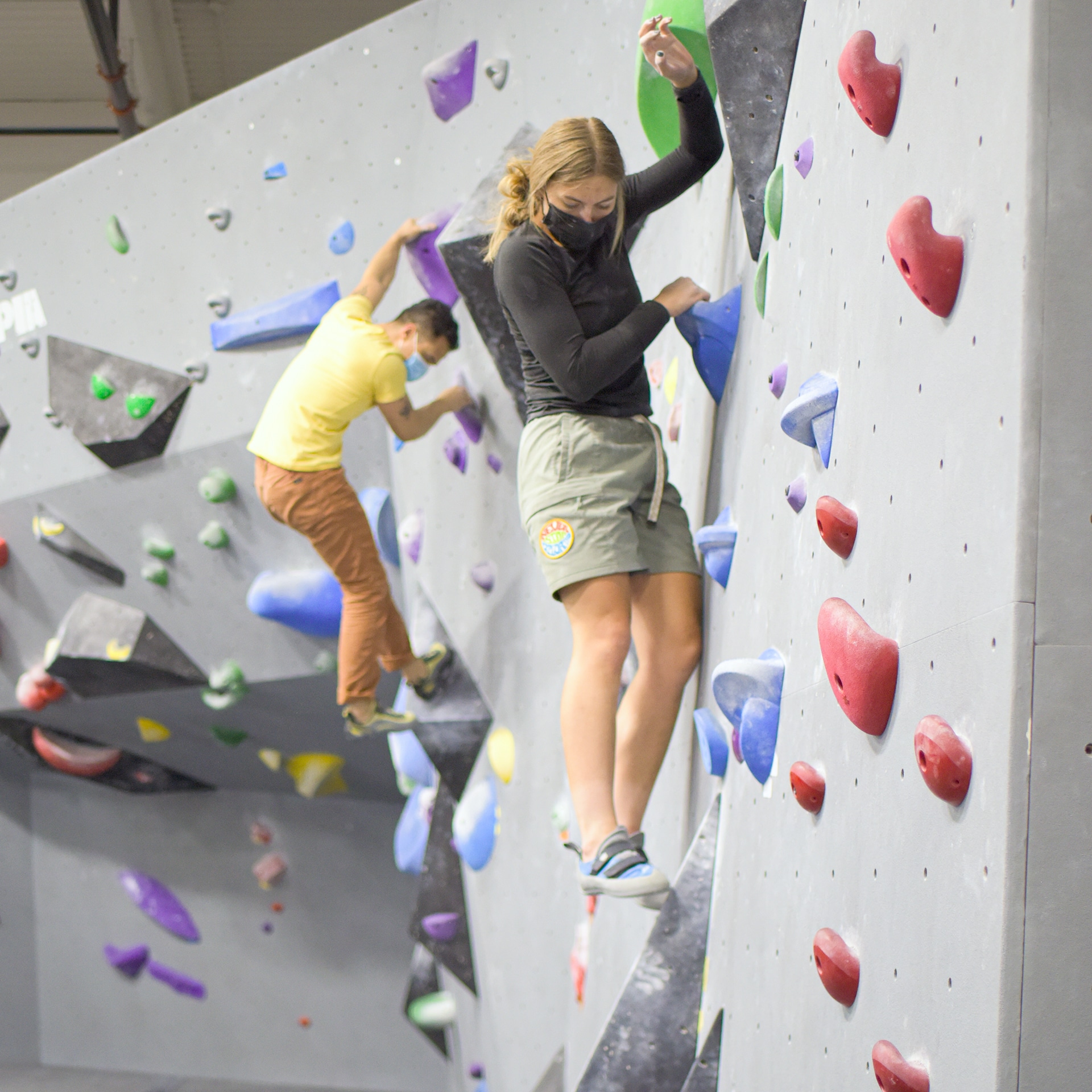 If you'd like some extra instruction, we offer a beginner bouldering class – BUILDING BLOCS 1.  This course is complimentary with your entry fee.
For dates, times, and more info, click on the link below.
Please bring a valid photo ID to validate your waiver.
If you still have questions, please give us a call (587-754-7470) or email us at info@blocsclimbing.com and we'll be happy to help!