Don't project your rehab, flash it with YW Physio at BLOCS!
Book your next physio appointment at BLOCS and get physio beta to 'scend to your potential.
PHYSIOTHERAPIST:  Yung Y. Wong, Physiotherapist
NEXT POP UP: Thursday, Nov 26th, 2020
TIME:  6:00PM – 10:00PM
FEE: (Does not include climbing session – please book here if you would like to climb before or after your session)
$115 Initial Assessment
$90 Follow-Up
WHAT TO EXPECT:
1-on-1 focused 45 minute session
Evidence informed holistic treatment approach
Education of the injury diagnosis (*often a working diagnosis)
Collaboration on a treatment and/or training plan
On and off-the-wall assessments
Provide guidance on Return to Climbing/Activity/Sport
TREATMENT MAY INCLUDE:
Evidence informed exercise recommendations
Referral to Sports Medicine specialists where appropriate
Manual therapy
Soft tissue mobilisations
Functional Dry Needling, Certified by KinetaCoreTM
Sports Taping
INQUIRIES AND BOOKINGS:
For more info and to book your session, please email Yung at yywongpt@gmail.com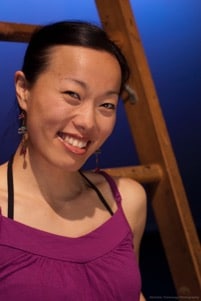 Yung Y. Wong
Physiotherapist; MScPT, BEd, BPHE, BSc
Yung has been recreationally sport climbing since 2001. She became a physiotherapist in 2014 and has focused her clinical practice in orthopaedics, musculoskeletal, and sport-related injuries.  She can be found at the Glen Sather Sports Medicine Clinic, Stollery Children's Hospital, and works for the Paralympic-bound Canadian Women's Sitting Volleyball Team. Yung works closely with multidisciplinary teams focused on treatment of shoulder, hand and wrist injuries, and performing arts medicine. She attended the 2017 and 2019 Canadian Climbing Medicine Symposiums to deepen her knowledge of current treatment options for climbing injuries.  With these clinics, she continues to amalgamate her passion for lifelong learning as a physiotherapist and her love for climbing.
Additional Credentials:
Canadian Climbing Medicine Symposium Attendee – 2017, 2019
K-Taping® Sport Taping Certification
Canadian Sports Physiotherapy Certificate, Diploma Candidate
Sport First Responder Certification, BLS-HCP
Performing Arts Health Certificate, PAMA ACSM
Canadian Academy of Manipulative Physiotherapy Level 2 certified, NAIOMT CMPT Candidate, USA